News Releases
Grande Portage Resources Ltd. Announces Drill and Trenching Results
---
VANCOUVER, BC, November, 15 2011 - Grande Portage Resources Ltd. (TSX-V GPG) ("Grande Portage" or "the Company") is pleased to announce that it has received additional assay results from its Herbert Glacier gold project in Alaska.

The F platform (western most platform on Deep Trench vein) showed impressive values in DDH 11F-3 (39.97m-43.49m) where an intercept of a brecciated quartz vein assayed a weighted average of 11.53 g/t of gold over 3.52metres. Significant values were seen in all of the holes drilled from the G platform on the Deep Trench vein. Highlights include; DDH 11G-2 (130.50m-135.10m) which had an intercept 4.18 g/t gold over 4.6 metres and DDH11G-4 (98.79m-100.15m) which assayed 9.26 g/t gold over 1.36metres. The Company also reports good assays from DDH 11I-7 on the Main vein. Strong values were also encountered in the trench samples taken from the Deep Trench vein near the E platform. See the table below for more details.

Additional drill results, including those from 11G-8, and the first 2 holes from F, are pending and are expected over the next few weeks. The Company will announce further assays once received from the laboratory.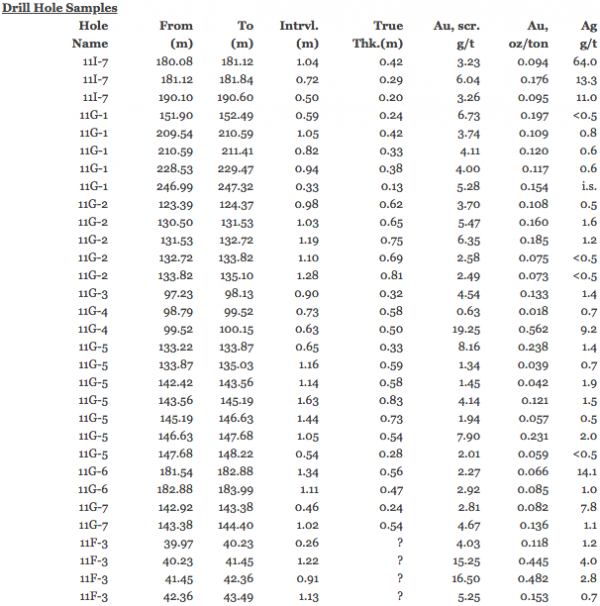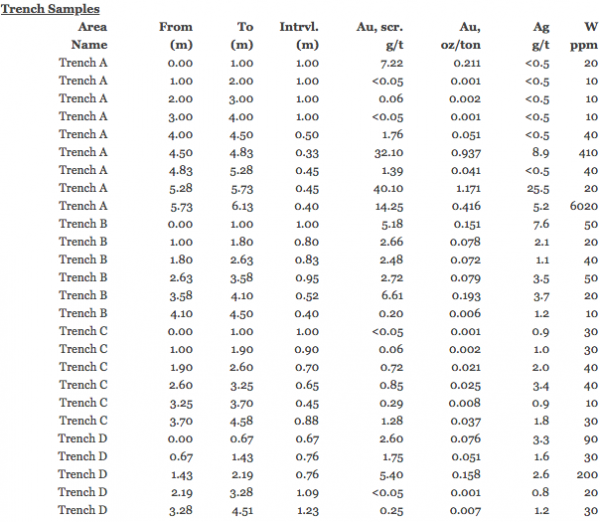 Geologists Carl Hale and consultant Charles Hawley completed the 2011 fieldwork with identification of numerous deep targets to be drilled in the 2012 season in addition to a series of shallow closely spaced holes to be drilled with a smaller more portable rig. Also, baseline water sampling studies and the NI 43-101 technical report are well underway. The 2012 drill program will be planned and submitted for permitting during this quarter.

All 2011 drill holes were assayed by fire assay, using the metallic screening for coarse gold detection by ALS Minerals in Vancouver, B.C. Common and characteristic elements such As, Ag, Pb, and W are being assayed by ICP methods. All samples are under direct control of Grande Portage Resources Ltd. prior to their delivery to Alaska Air Cargo for shipment to the ALS prep lab in Fairbanks, AK.

Grande Portage and Quaterra Resources, Inc. (TSX-V: QTA, NYSE Amex:QMM) formed a 65%/35% joint venture for the further exploration and development of the property with each party bearing their proportionate costs.

This news release has been prepared and approved by Carl Hale, CPG, a geologist with more than 40 years of experience and a Qualified Person as defined under NI #43-101. Mr. Hale is supported by C. C. Hawley, Ph.D., CPG of Hawley Resource Group, Inc. and Alaska Earth Sciences, Inc. of Anchorage, Alaska

About the Herbert Glacier
The Herbert Glacier prospect is in the historic Juneau Gold Belt, formerly a world-class district with producers such the AJ and Treadwell mines and literally dozens of smaller gold mines and prospects. Overall gold production from the district is over 7 million ounces. In 2010, the district was reactivated by the reopening of Couer Alaska's Kensington gold mine located northwest of the Herbert Glacier property and is on track to mine 125,000 ounces Au in each of the next 12+ years. In addition, strong community support has been demonstrated for Hecla Mining Company's polymetallic Green's Creek Mine, a massive sulfide deposit containing silver, gold and zinc located in a parallel trend 20 kilometers to the west.


ON BEHALF OF THE BOARD OF DIRECTORS
________________________________________
Ian Klassen, President

For further information please contact:
Mr. Ian Klassen
Phone: (604) 899-0106
Email: ian@grandeportage.com
Website: www.grandeportage.com

Statements about the Company's future expectations and all other statements in this press release other than historical facts are "forward looking statements". Such forward-looking statements are based on numerous assumptions, and involve known and unknown risks, uncertainties and other factors, including risks inherent in mineral exploration and development, which may cause the actual results, performance, or achievements of the Company to be materially different from any projected future results, performance, or achievements expressed or implied by such forward-looking statements.

NEITHER THE TSX VENTURE EXCHANGE NOR ITS REGULATION SERVICE PROVIDER (AS THAT TERM IS DEFINED UNDER THE POLICIES OF THE EXCHANGE) ACCEPTS RESPONSIBILITY FOR THE ADEQUACY OR ACCURACY OF THIS NEWS RELEASE